Posted By RichC on March 17, 2020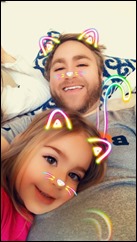 With the Coronavirus news sending the entire world into chaos, about the only thing sane to do is to hunker down and ignore the mayhem.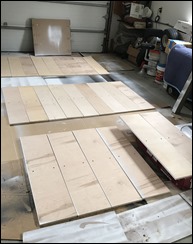 "Woulda, coulda, shoulda" doesn't do much now … I'm just thankful to have mostly invested in sensible companies that hopefully will weather the storm. Only time will tell.
So in the meantime, I've busied myself with more of the weekend project. I'm priming the newly edge banded book shelves and putty/cauled the library/music room – prepping for for paint. Perhaps this once-upon-a-time February project will get done in the spring?
Taylor and Megan sent a few photos from they visit with Katelyn and Drew in Perrysburg; it was their first chance to see Ellerie … although I suspect "high energy" Annalyn dominated Taylor's attention. She does love playing with her Uncle Taylor and from the looks of things, he doesn't seem to mind playing with her. Great photos … and I'm very proud of my family (a few photos below).
Megan holding Ellerie, Taylor with Annalyn and ME "PAINTING" … not COVID19!