Posted By RichC on April 23, 2020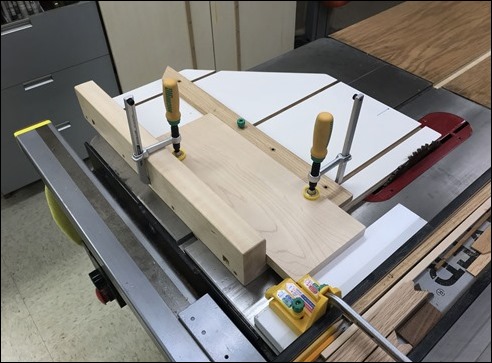 After cutting a few miter joints earlier this month with a 45 degree jig on my table saw crosscut sled, I started to contemplate the best way to cut clean tendons and dadoes. In the past I've used an added fence to the stock miter gauge, but it really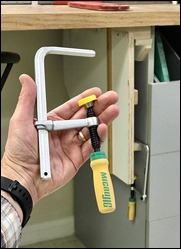 doesn't do a great job. Of course to the Internet I went to come up with a better miter "sled" idea.
Instead of just downloading plans, I decided to start from scratch (meaning material I had on hand) and make one that fit my needs and Coronavirus "stay-at-home" available materials. I used a piece of 3/4" plywood leftover from the kitchen cabinets during the remodel a couple years ago and just incorporated the angle as a way to lighten the small sled. I glued a couple pieces of straight hard maple pieces from "Annalyn projects" for the fixed fence adn then added dovetail "slide" grooves and an low profile adjustable guide/clamp with pricey MicroJig clamps for hold-downs (send me an email if you find a place to buy them at reasonable prices).
I do prefer using the dovetail slide clamps for hold down clamps over other methods (looked at adding aluminum tracks). In the past I've used wedge pressure clamps, the toggle hold downs or my simple block of wood with sandpaper glued to the bottoms (below).
All in all, the new sliding miter jig is great for nearly ever precise crosscut operation. So just when I thought my big table saw crosscut sled couldn't be beat … this little jig is the lightweight go-to jig.