Posted By RichC on September 24, 2020
We had our first taste of cooler fall weather for 2020 last week as the hot 80+ degree days of August and early September gave way to pleasant mid-to-high 70s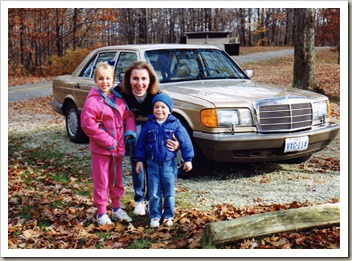 and cooler evenings dipping into the 40s. Brr, my body has not adjusted yet.
As autumn approaches and the temperatures are more tolerable in the garage, it has me struggling with what to do about the brakes on the 1958 Packard Hawk. The additional cost of upgrading the brakes to disks in front (mentioned the Turner Brake conversion kit previously) plus having to switch from stock 14" wheels to 15" wheels plus new tires has me rethinking my strategy. The problem is that if I don't to it this go around, I'll need to do a full brake job (drums) anyway and then still likely need new tires before driving it on the road or even selling it. Yikes … first time I said that out loud. 
The whole BIG DOLLARS in servicing had me remembering the costs involved with maintaining our luxurious 1987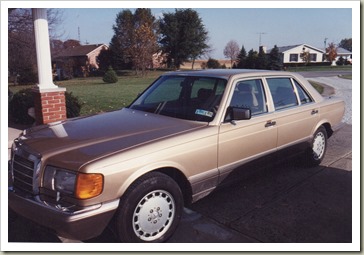 Mercedes Benz 560 SEL after buying it 'right' at an estate sale (I had been searching for a W123 diesel like my 300D Turbodiesel when this beauty crossed my path. I bid low and ended up with the car). Anyway, the autumn photo above of Katelyn, Brenda and Taylor in the early 1990s showcases the beautiful lines and one below from my mom and dad's house was dated 1992. It was a great road car for the 10 years we owned it, but expensive to fuel (premium) and own (genuine MB parts), especially when trying to keep the "dealer stamps" up to date.
All in all, the car makes for good memories for Throwback Thursday #TBT post.