Posted By RichC on January 2, 2021
Adam Savage, from Mythbusters claim-to-fame, has been regularly posting a few of his shop ideas online. A few months ago he triggered me into improving my portable Sailrite Sewing machine set-up (well my wife's sewing machine that I use .. cough, cough).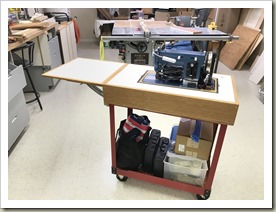 Anyway, a few weeks after he built his table for his impressive Sailrite stitcher (his is not portable), I decided to improved ours with a little added on, but still wanted to keep it portable.
A few weeks later, he added a small tuperware drawer add-on which made it convenient to drop the small pinch-clips that hold piece together similar to the way most use sewing pins. As one stitches along, each clip is removed and dropped in the tuperware, can or box one as a time. A month or so ago, I added a wooden holder for the small lidded can, but it was a bit small and "in my opinion" feminine for my tastes.
So as I was cleaning up the workbench and tossing my testing piece for the brass screwed miter corners (used for the Pie – Pi – Boxes), I split it into two "L" pieces and attached to an old cigar box that was salvaged from the days I helped Brenda stack newspapers at the drugstore she managed. This was in the early 1980s when Brenda managed a small drugstore in Shaker Heights, Ohio. In those days, the pharmacist was often also the store manager, especially when it was a tiny corner neighborhood store.
Only click more if you want to head down a rabbit hole … – Idiom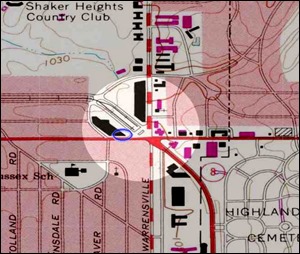 For those who know the area, her Gray Drug store (blue circle  at corner of building on old Shaker Heights, OH map) was located at the corner of Chargrin, Northfield and Warrensville at the Cleveland RTA Blue Line Rapid Transit Stop). Eventually the chain was bought Sherwin Williams and then sold to Rite Aid. Her small store was merged into a much larger "modern" store across the street that we dubbed "the Van Aken store" where it became a 24-hour Rite Aid and where she worked until having Katelyn (1986). 
The shopping area at Warrensville Center and Chagrin Blvd (built in 1953) has now been completely revamped and redubbed the Van Aken District; the Rite Aid is in a new location and a Walgreen is now about where the small corn Gray Drug was located (but the area is nothing like it was – see current 2021 map). Anyway, when Brenda went back to work after having Katelyn, she took a position with Revco in Hudson, Ohio eventually moving to their headquarters the next town north of Hudson in Twinsburg and starting their Mail Order Pharmacy. Just thinking about it makes me dizzy with all the change.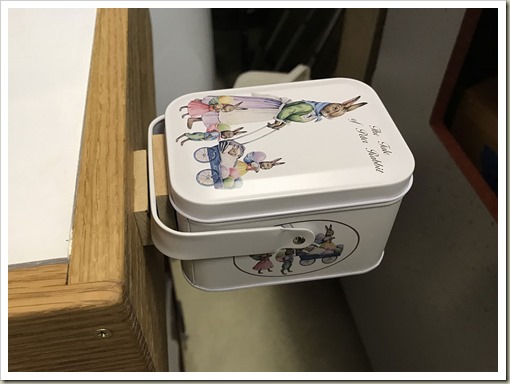 I'm not sure why I headed down the rabbit hole after talking about an old cigar box, but it happens. For now, the cigar box hanging off the sewing machine seems a little more masculine than the little "Peter Rabbit" tin box with "cute graphics" that the clips came in. 😊