Posted By RichC on February 22, 2022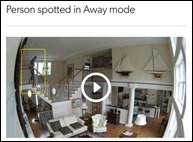 For years now we have been satisfied with the bulky (and older) Canary Cams for added security at home. The first Canary continues to work flawlessly "inside" our house and thankfully just perches quietly in our great room and is suppose to trigger when motion is detected "when we are not home."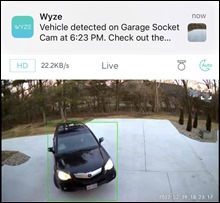 The plan was to use it without the monthly monitoring costs associated with adding a camera to our normal windows/doors/fire/etc home security setup.
Being early to the game, we added a second one for the detached poolhouse garage, but since then added a low-cost Wyze Cam and have been pointing the older 2nd Canary out the window to monitor the driveway. It works great during the day when the glass reflection is low and the bugs and birds stay away.
Unfortunately the cam switches to infrared mode at night and does not work very well through a window. I've contacted Canary.is to see if there is a away to switch off the night-mode, but after going through their re-calibration and trying everything their customer support offered … there is not.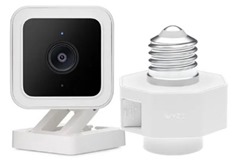 So … I've added a new Wyze Cam3 (outdoor safe) driveway camera to the Wyze side of my accounts and am currently paying their "lower-cost" PLUS service which offers more cloud storage and AI to detect people, vehicles, packages, etc. The product I opted for this time was their Socket Cam that plugs into a garage light and offers a sunset-to-sunrise feature for the outdoor garage light. This is controllable on their app, but better yet is that it feeds power to the Cam3. The shipment arrived and unfortunately would not powerup … but giving me the chance to test the Wyze customer service. I was far better than Canary and they quickly sent me a new camera (testing it below) to plug into the socket. So far it has been flawless. Stay tuned as I'll soon be testing the new Wyze Cam Floodlight for our HOA's pool as mentioned last month for a Tech Friday post.