Posted By RichC on January 14, 2022

This past Christmas, my daughter Katelyn gave Drew a new Wyze Watch and, as always with all Wyze products, I was  impressed with their reasonably low price for excellent products (although I'm still super happy with my Fitbit Versa – thank you K and D).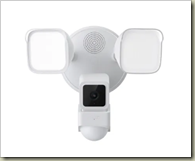 The Wyze gift reminder had me revisit one of their security cam products that I'm on the waitlist for … and that I mentioned at this weeks HOA meeting. Rather than spend hundreds of dollars for other cameras and services to monitor things, the new Wyze Cam Floodlight might be enough to monitor … or at least act as a vandalism deterrent around the neighborhood? The LED floods with a WyzeCam3 can be set to trigger (lights on) and record an event when it detects motion. With a subscription (and WiFi connection) the events could also be archived on the cloud. Since I'm on the waitlist anyway, I'd like to replace the quirky lights (suspect moisture problem) on the back of the poolhouse detached garage with this and see if it works. Come on Wyze, hurry up. HA!