Posted By RichC on February 15, 2022
This post is going to be "a day late (or so) and a dollar short" post … just as the Cincinnati Bengals were in Sunday night's Super Bowl LVI. Our young Bengals put up a valiant fight, but came away with a disappointing loss: Rams 23, Bengals 20.

As so many have said, 2022 for the YOUNG Cincinnati Bengals team has had a fairy tale season considering their lack of experience, five previous losing seasons and early season analysis that they needed another year of maturing. So as a Wild Card longshot,

three playoff wins to earn the AFC title and trip to the Super Bowl was pretty impressive. It excited and inspired fans, the entire city of Cincinnati and everyone living in Ohio and for that matter, the tri-state area.
I've heard from friends and rival AFC fans who told me even they were rooting for the Bengals. Having lived 13 years in NE Ohio, it was good to hear from Cleveland fans (Go Browns!), and even Pittsburgh Steelers fans (I don't know if I could cheer for them – just being honest) … and even a few people in Toledo who favor the NFC Detroit Lions.  I can understand their flipflopping dilemma in rooting for their old quarterback, Matthew Stafford, who QB-ed the Rams this season (I was secretly happy to see him finally win a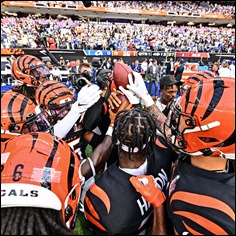 Super Bowl ring).
Although I was disappointed in the loss, I was really disappointed that such a close game came down to a couple 2-minute referee calls that may have changed the outcome. I know it can go both ways (as it did with a missed call that favored the Bengals early in the game), but considering the referees stay out of the game until the last couple of minutes, it was difficult to stomach. Nevertheless, it feels good going to the big dance for the first time … in my son's lifetime (last Super Bowl was in 1988 … although still no wins).
I commented on a Tweet from our young team leader and quarterback Joe Burrow … he has given fans something to get excited about; this hopefully will not be the last we see of him and this young and spirited group of guys – they definitely play as a team (and maybe in the off-season the coaches and head office can work on improving the offensive line? – hint, hint!) 

Also …
I just had to archive a photo of Katelyn with my Ben-GALs before the big game and a shot of Taylor heading down to Paul Brown Stadium for a photo before the game.