Posted By RichC on June 6, 2022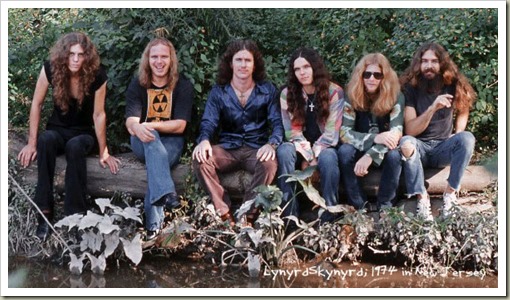 I was tuned into a television morning news show a few weeks ago and was shocked that two of the three hosts didn't know "the band" Lynyrd Skynyrd … in fact one commented, "but I've heard of 'him.'"  Shocked, but maybe it's an age thing?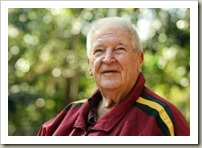 The conversation quickly shifted into the band's eponym … Forby Leonard Skinner (photo right), America's "arguably the most influential high school gym teacher in American popular culture," according to the NYTimes. The band members derived their band's name "as a way of getting back" at Mr. Skinner for getting them suspended due to their long hair in school.
Yes, it was a different time … the time I grew up in too (my high school "Fearsome Foursome" buddies in photo on left) … and watching the band, crowd and guitar riff from this outdoor live concert video from 1976, I can understand why my dad was not fond of long hair either! 😉 (see more on Leonard Skinner below break at the bottom of this post)
So for Music Monday today, it is back to the 1970s era of rock and roll and the music I grew up … that being the rise of the 1964 band "My Backyard" (original name) followed by several others and and combination of band members to finally adopting the name Lynyrd Skynyrd in 1969. They released their first album in 1973 followed by 4 more. Southern Rock had finally rose to accepted prominence in the mid-1970s with popular songs such as "Sweet Home Alabama" and "Free Bird" (oddly, my wife's favorite).  Depressingly in 1977, the band's chartered airplane crashed, killing band co-founder Ronnie Van Zant, guitarist Steve Gaines, and backup singer Cassie Gaines, and seriously injuring the rest of the band.
Ronnie Van Zant's younger brother Johnny Van Zant helped reform the band ten years later in 1987 (Second Generation Skynyrd) with original guitarist Gary Rossington,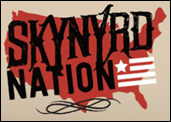 Rickey Medlocke, Michael Cartellone, Mark Matejka, Peter Keys and Keith Christopher. They've continued to perform and have recorded nine additional studio album from 1991-2012. They announced a semi-farewell tour in 2018, but hinted that their pandemic delayed Farewell Tour, which became the Big Wheels Keep On Turnin' Tour in 2021, might not be their last. It wasn't … since they have their tour dates scheduled through September 2022.
The Forby Leonard Skinner connection:

Several members of the band Lynyrd Skynyrd, including Ronnie Van Zant, Gary Rossington, and Bob Burns, were students at Robert E. Lee in the 1960s. Skinner's strict enforcement of a policy against long hair inspired the members to name their band after him. Skinner maintained that he was merely enforcing the school policy. Several members of the band would try to slick their hair down with Vaseline, as students were required to shower after gym. At that point, it was readily revealed that their hair was longer than regulation. The group reportedly changed their name after Skinner sent Rossington and others to the principal's office for wearing their hair too long.[3][4] Over time, Burns, Rossington, and other band members developed a series of running in-jokes about Skinner and ultimately decided to pay "tongue-in-cheek homage" to him by renaming themselves "Lynyrd Skynyrd".[5] In 1977, an Associated Press article described the band's connection to their gym teacher as follows:

It seems a physical education teacher named Leonard Skinner didn't cotton to long hair or loud music. A run-in with him helped get the boys suspended. As a way of getting back, they named the band for Skinner, changing the vowels to avoid a lawsuit and becoming famous enough to make the story a rock legend.[6]

Interviewed in January 2009, Skinner said he was just following the rules about hair length. It bothered him that the legend had grown that he was particularly tough on the band members or that he had them kicked out of school. He said, "It was against the school rules. I don't particularly like long hair on men, but again, it wasn't my rule."[7] At the same time, Skinner told The Times-Union of Jacksonville, "They were good, talented, hard-working boys. They worked hard, lived hard and boozed hard."[3] Skinner's son said, "I think he kind of ate it up. He didn't like it at first, he had mixed emotions later, but I think he kind of liked it eventually."
Jacksonville Florida 2015 concert – "Gimmie Three Steps"