Posted By RichC on November 6, 2022
Although I have yet to open the individual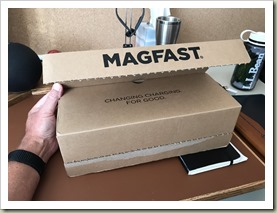 components … the L-O-N-G awaited MagFast "premium charging" kit has finally arrived.
The new magnetically connected kit is not yet fully complete as there are still a couple components that will be shipped later. This will probably be the last pre-purchased product I purchase after losing my deposit on the Elio and waiting an eternity for Magfast with delays from product development to Covid shutdowns, Chinese manufacturing and shipping problems. Still, with the positive experience from the ThingCharger (below left).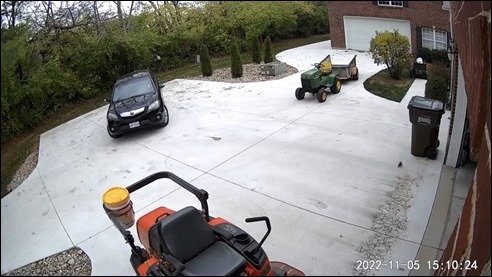 WyzeCam3 image making Brenda shuffle her car around my yardwork equipment 
While typing Saturday night for Sunday mornings post, I sit uncomfortably sore from working in the yard on SIX trailer loads of leaves (on top of the three that I hauled in October). The power was out for a while from what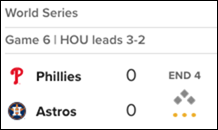 I assumed was from the wind (it was a nice windy day) , but since I was working outside, it didn't really matter, although Brenda headed out to go shopping. Tonight I am looking forward to gaining an extra hour of sleep (clocks fall back) after watching World Series game 6 in my office (TV below). Currently there is no score with the Astros leading the Phillies 3 games to 2 in the series.
Although I'm pulling for Houston, I really don't have a dog in the fight – but since a Philadelphia team won in 1929 and 1930 (the Athletics … it did welcome in the first Black Monday and the Great Depression). 

Then in my era, the Phillies won in 1980 (Iran hostage crisis and the energy crisis with double-digit inflation – scary familiar!) and then finally Katelyn and Taylor's lifetime, during the Phillies Golden era, they won the World Series in 2008 (I'll credit them with the Great Recession – HA!)
So just call me superstitious for cheering on the Houston Astros to win the World Series again!
---
EDIT 11/6/2022:
ASTROS WIN 2022 WORLD SERIES, SOLIDIFYING THEIR STATUS AS A DYNASTY