Posted By RichC on August 8, 2006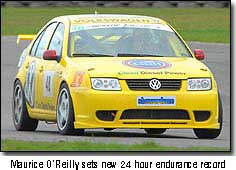 I'm posting a press release directly from New Zealand's Maurice O'Reilly and his engineering team today as they reported yet another Volkswagen 1.9 liter TDI record. This time it is a 1, 6, 12, 18 and 24 hour record which covered a record 2,642km/1642miles. (They also set a 'speed record' for a 1.9 liter diesel which was posted a couple days ago)
North Cape > Bluff > back to Christchurch – in 24 hours !

This is an example of the distance achieved by 4 motorsport enthusiasts driving a diesel Volkswagen Jetta. Between 9am on Monday and 9am on Tuesday the VW Jetta TDi circulated Manfeild Race Circuit stopping only for fuel and driver changes, in atrocious wet and slippery conditions to establish a five New Zealand distance records.

The Gull Petroleum Volkswagen has provisionally set new records for the 1, 6, 12, 18 and 24 hours with a total distance of 2,642km. This eclipsed the previous record by 160km in spite of spending an hour at the trackside replacing a damaged driveshaft. Car owner Maurice O'Reilly together with Wayne Moore, Paul Goatley and the German VW engineer who built the car, Eberhard Rattunde, each drove 2 x 3 hour shifts in very demanding conditions to prove that diesel is a serious performance fuel. During the record setting drive the affordable family sized 4 door VW Jetta TDi used only 420 litres of Gull diesel. This compares with a 4WD Turbo Porsche that drove 2,942km in the same time on the same track (without the hour stop) using over 1200 litres of petrol.

The record setting team was confident that modern diesel technology cars could demonstrate something that the Europeans have known for many years – modern diesel powered vehicles are clean, quiet, reliable, economical … and fast.

Public interest and media attention has been astonishing. The endurance records follow a week after the same VW Jetta set a NZ Diesel Speed record of 232kph. Car owner Maurice O'Reilly said that everyone is very conscious of current high fuel prices and, given the expectation of further future price increases, are very interested in discovering how good diesel is in comparison to the traditional petrol fuel. Unlike hybrid vehicles and new alternate fuels, diesel is readily available, cheaper, economical and the simple engine technology is well known. Increased use of diesel can immediately extend the world's fuel reserves and offer savings to motorists without significant lifestyle and infrastructure changes.