Posted By RichC on June 7, 2008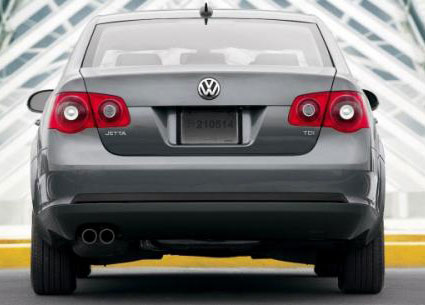 Dave Vanderwerp reviewed the 2009 Volkswagen Jetta TDI in a recent article of Car and Driver and concludes that its the "cheapest 40+mpg sedan." His June 2008 review follows a Jared Gall "first drive" article in February of 2007 — its been a long wait for TDI lovers.
Just when you thought there wasn't a 40-plus-mpg car available for $20K other than the pipsqueak Smart Fortwo, we happened upon this timely little tidbit on the EPA's website: the 2009 Jetta TDI is officially rated at 30 mpg city, 41 mpg highway for the six-speed-manual model and 29 city, 40 highway when equipped with the six-speed DSG dual-clutch automated manual.

The previous 2006 Jetta TDI was rated at 30/37 for the five-speed manual and 30/38 for the six-speed DSG (according to the EPA's new methods), which means the '09 model improves its highway figure roughly 10 percent while at the same time boosting horsepower by 40 to 140, bumping torque by 59 lb-ft to 236, and making the oil burner clean enough to be sold in all 50 states.

VW is quick to suggest that it expects the new Jetta TDI to outperform the EPA's figures—by as much as 20 percent—a diesel phenomenon we don't totally discredit due to real-world economy as high as 25 mpg in our long-term Mercedes-Benz GL320 CDI (rated at 18/24). And even though diesel prices are currently hovering about 20 percent higher than gas, the Jetta TDI's ratings out thrift gas-powered Jettas by about 40 percent.