Posted By RichC on November 5, 2009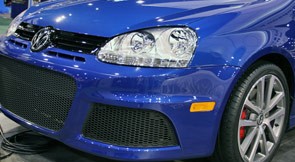 If you enjoy snapping your Volkswagen around a corner or stopping fast enough launch your sunglasses into the windshield, then you might want to consider the VW TDI Cup "Street" Edition. It's closest kin is the Jetta GLI … but with a diesel engine.  Volkswagen announced that the TDI Cup Edition Jettas should be in dealer showrooms this January.
Jetta TDI Cup 'Street' Edition Racing Into Showrooms Soon

HERNDON, Va., Nov. 4 /PRNewswire/ — Volkswagen of America, Inc. today announced the Jetta TDI Cup "Street" Edition will be available in dealer showrooms January 2010. The concept debuted in Las Vegas during the 2008 SEMA (Specialty Equipment Market Association) show. Following the SEMA show the concept was displayed at TDI Cup races throughout the country, where it was well received by enthusiasts and consumers alike.

"Since our inaugural TDI Cup series in 2008 we have received numerous inquiries as to whether or not we would offer a TDI Cup replica vehicle," said Mark Barnes, Chief Operating Officer, Volkswagen of America, Inc. "We're thrilled to announce that a special edition Jetta TDI Cup Street Edition will be available in dealer showrooms early next year. What makes this special edition so unique is that it features the optional, race inspired, TDI Cup body kit package combined with our clean diesel engine. The Jetta TDI Cup Street Edition is one exceptional special model that is as fun-to-drive as it is to look at," added Barnes.

The similarities between the TDI Cup race car and the "Street" Edition equipped with the optional TDI Cup Edition Kit are apparent at first glance — the TDI Cup "Street" Edition Kit features the front bumper, side skirts and rear valance that are found on the TDI Cup race cars. The enhancements to the TDI Cup "Street" Edition go well beyond cosmetics. All "Street" Edition Jetta TDI's feature larger brakes with red calipers, sway bars and European sport tuned suspension from the performance oriented GLI.

The TDI Cup "Street" Edition is powered by the award winning 2.0-liter clean diesel engine that produces 140 horsepower and an impressive 236 lbs.-ft. of torque. The engine makes use of an advanced electronically controlled turbocharger and common rail direct injection technology, and can be mated to either a six-speed manual transmission or the highly acclaimed DSG® transmission.

Other standard upgrades on the Jetta TDI Cup "Street" Edition include sport seats with Interlagos cloth, and a leather-wrapped, multi-function steering wheel that features paddle shifters when equipped with the DSG transmission. Completing this dynamic special edition is a set of 18 inch Charleston wheels with performance all-season tires. This special edition starts around $25,000–staying true to the brands mantra of offering affordable German engineering that is a whole lot of fun to drive.

The Jetta TDI Cup "Street" Edition, like the Jetta TDI, Jetta SportWagen TDI, Golf TDI and Touareg TDI qualifies for an Advanced Lean Burn Technology Motor Vehicle Federal Income Tax Credit. The tax credit on the "Street" Edition is $1,300.

Like all 2010 models, the Jetta TDI Cup "Street" Edition also comes standard with Volkswagen's Carefree Maintenance Program, with this program there are no charges for the scheduled maintenance described in the vehicle's maintenance booklet for the length of the New Vehicle Limited Warranty — three years or 36,000 miles, whichever occurs first.