Posted By RichC on February 10, 2010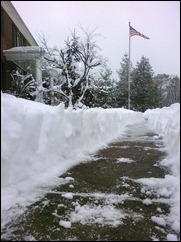 I'm 'enjoying' (sort of) staying in town this week since most of Ohio has been receiving a good dose of snow. I've been out shoveling the walk (Palm Pre photo left – click for larger) and snowblowing the driveway more than once already – and no doubt will do it again before the last few snow showers end later today … if weather prognosticators can be believed.
WCPO Weather:
Our best chance of falling snow happens through the first part of today with snow tapering to just leftover flurries later today and this evening. Today will stay cloudy with very little sunshine and the snow pack will keep it cold with highs only in the middle 20s. Wind chills will be in the single digits with gusts close to 35 mph and sustained winds between 15 and 25 mph.