Posted By RichC on April 1, 2010
Time Warner notified me that they needed to upgrade the existing cable cards in my Series 3 Tivo box with a multi-stream card

AND install another piece of hardware in order to continue receiving their content (some sort of 2-way frequency sharing box or something). After they added some new wires and stacked the odd sized Cisco box on top of my DVR and DVD player, I thought: "this is a ridiculously complicated way to receive a couple basic cable stations in HD" … we watch fewer than 10 channels.
The headache aside of having to schedule an afternoon off to meet the cable guy — very nice guys BTW — I was disappointed with how professional cable installers left the wiring in our basement. If this wasn't in my house it would actually be funny!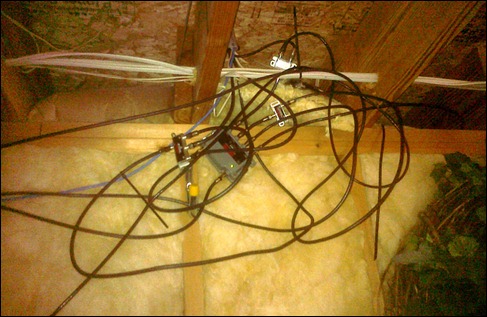 Tweeted the photo and to Time Warner's credit they picked it up and
asked me to schedule another appointment to correct the wiring.