Posted By RichC on June 13, 2010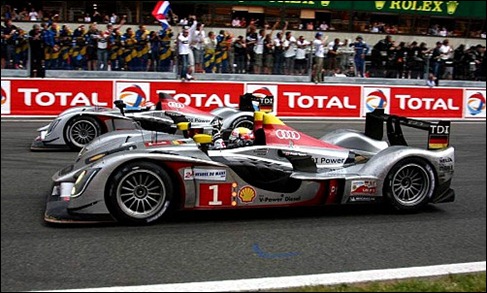 When it comes to endurance, it is hard to top a diesel engine, a fact know by truckers, commercial equipment owners and a few fortunate automobile owners. The endurance fact was once again reinforced by Audi R10 TDIs Audi R15 TDIs winning their ninth Le Mans 24 Hours race this weekend – dominating and taking spots one, two and three. Interestingly they started the race behind the Peugeot vehicles (also diesels this year) which took all the top spots in time trials and began the race as the favorite. Unfortunately for the Peugeots, top speeds don't always figure in to a 24 hour endurance race like the Le Mans. German engineered Audi diesel out performed their rivals by finishing the race with an average speed of 220 kilometers an hour (~137 mph) making it one of the fastest Le Mans in history.
For Peugeot, after setting the fastest lap times, the defeat was humbling since they were favored to win, yet had mechanical issues preventing their cars from even finishing the race. Audi on the other hand, improved their diesel entries over last year and had practically no mechanical problems reinforcing both the superiority of German engineering and diesel engines when it comes to endurance.
And so it is that Audi won its ninth Le Mans 24 Hours race, equaling the result of Ferrari. The winning car was driven this weekend by Timo Bernhard, 29, a German; Romain Dumas, 32, a Frenchman; and Mike Rockenfeller, 26, another German.

Shortly before the end of the race, Wolfgang Ullrich, the director of the Audi team, told Eurosport the secret of the victory.

"We were confident that the cars would be reliable and last the 24 hours," he said. "We knew we were not as fast as the Peugeots, and I told the drivers to drive fast, but without taking risks."

Allan McNish, who drove the Audi that finished third, said the team was surprised, delighted and a little let down.

"We didn't believe we would be able to do a one-two-three, that's for sure," McNish said in a television interview, adding. "We didn't like to see the Peugeots go out like that — I like to fight to the end."

But for the spectators who watched the race over 24 hours, it was one of the biggest upsets in decades.