Posted By RichC on August 12, 2010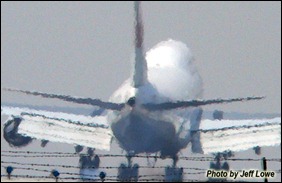 For personal transportation miles-per-gallon watchers, like many VW TDI drivers I know, an article in Thursday's WSJ that translated US based airlines fuel efficiency into automotive MPG standards, might be of interest. In the past, frugal flyers may have looked at the numbers in order to save a buck, but now more and more travelers are conscientious based on environmental reasons. Let's see who is focused on being green and who is not. (Photo credit Jeff Lowe)
The method that was used by WSJ's travel writer Scott McCartney, calculated the MPG per seat and concluded that newer midsized airplanes traveling at moderate speeds are more fuel efficient if they are not just taking short flights or are heavily fueled to travel long distances. The more fuel for longer flights increases weight making them less efficient; the up-down takeoff climb/descend for aircraft  traveling shorter distances also used more fuel for every mile they traveled. Unfortunately for the major airlines, they do both.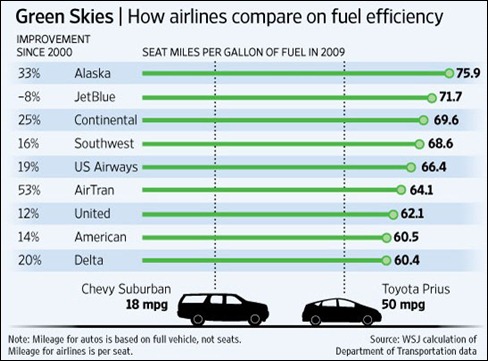 The conclusion is that airlines with newer aircraft who's routes avoid overseas long distance travel and short hub-hops generally have a good chance of higher MPGs per seat … although the more important key for airlines is to be sure those seats have  paying customers. Suffices to say, the airlines with the youngest fleets like Alaska Airlines, jetBlue Airways and Continental Airlines, all are more efficient in this calculation when compared to the airlines with older and larger fleets of aircraft. I found it interesting that the aircraft crowned "the champ" is the stalwart Boeing's 737-900; it carries 180 passengers and can offer 99 mpg on flights of 1000 miles.
Both Gordon Deal (Podcast MP3) and Kelly Evans (embedded video at bottom) interviewed Scott McCartney (MiddleSeat) about the article – names are Twitter URL links.