Posted By RichC on April 26, 2011
Now that my Sprint Palm Pre phone number is my Google Voice number, GV is handling both the audio and text transcription of my voicemail messages. After recording and transcription, an email is sent to my phone as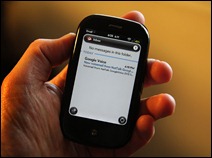 well as picked up by my email client (or on gmail) – also there's a copy archived on the Google Voice site until deleted (but are any Google based messages ever deleted?) A month ago the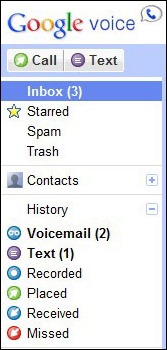 Sprint/Google announcement sounded like it might be a good idea, but I'm starting to wonder if having messages beyond the control of a personal answering device or contracted cellphone company is a good idea?
Nevertheless, after getting my earlybird announcement email (below), I tossed my old Google Voice number deciding instead to use my Sprint cellphone number (truth be told, I have several GV numbers). Besides the well known issues of questionable transcription, the service is fast and so far free. Although I'm currently permitting all phone numbers to ring my phone, I'm looking forward to eventually screening some numbers, re-directing other straight to voicemail and maybe even eliminating nuisance calls … perhaps I should test that with my wife? (did I say that? For the record, she is never a nuisance!)


Hello,

You have been invited to start enjoying the benefits of the Sprint integration before anyone else! We are interested in your feedback as we roll this out to the entire user base and have listed a link to a form where you can send feedback and/or questions.

There are two ways to enable the integrated service:

1. Option 1: Keep your Sprint number (all the benefits of porting without the need to). In this case, your Sprint number becomes your Google Voice number so that when people call your Sprint mobile number, it rings all the phones you want.

How to enable this: click on the "change/port" link next to your GV # in the settings page, choose the option to use your existing number, enter your Sprint number and select the Sprint option.

2. Option 2: Replace your Sprint number with your Google Voice number (all the benefits of the app without the need for one). In this case, all calls made from your Sprint phone will display your Google Voice # natively (same for SMS).

How to enable this: click on the "enable Google Voice on your Sprint phone" link next to your Sprint forwarding phone. If the link does not show, click on edit and use the link to verify whether your phone is eligible.

In both cases, Google Voice replaces Sprint voicemail (pressing one on your phone links you to your Google Voicemail) and international calls made from the Sprint phone will be connected by Google Voice. Integrating your account with Sprint means you will still get the benefits of Any Mobile Any Time if that is included in your service plan.

Important Notes:

The integrated service only works with a valid Sprint mobile number.
For this early release, Sprint support channels will not be available for support, including Sprint Retail Stores, Sprint Customer Care, Sprint Telesales, Sprint Direct Sales Reps, etc.
If you need support, or have feedback, please fill out this form [link removed]
If you use the Google Voice app on Android, you will need to log out and log back in to make sure the app stops using call interception.

Thanks,

Vincent Paquet, on behalf of the Google Voice team

© 2011 Google Inc. 1600 Amphitheatre Parkway, Mountain View, CA 94043

You are receiving this email announcement because you requested to be notified when the Sprint integration was available.