Posted By RichC on August 6, 2011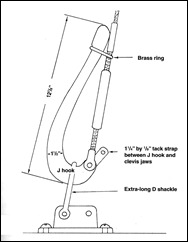 I started trying to make my own J-hook fitting in order to create a quick release/connect attachment point for the forestay on Encore. My 3/8" thick blank of 6061 aluminum proved to be too much for my bandsaw blade (hopefully due to age) last night so I'll need to order a replacement.
Every once in a while an attempt to re-engineer a part on my own has me questioning my own sanity. What I'm hoping to end up with is a way to clear Encore's deck forward of the mast "simply enough" to be able to stow the hard dinghy. The plan is to be able to slip the baby stay through the dagger board slot of the Trinka and refasten the stay for passages. Quick measurements had me thinking that this would be possible and work, but I'm starting to question my logic?
===
Lin and Larry Pardey's Capable Cruiser