Posted By RichC on August 9, 2011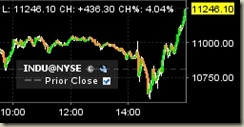 Although I'm tiring of watching the fickle up and down action of the stock market … as are those who might stumble across my blog these couple of weeks … it is better to be able to say that the Dow Jones Industrial Average finished near session highs today. The 429.92 points – 3.98% gain wasn't guaranteed even though many analysts saw the selling as "over done" … considering corporate balance sheets have been looking better (and frankly the US financial situation isn't any different than anytime earlier this year). Still, it did feel better to to see the Dow close above 11,000 at  11239.77.
As for the day, the up and down action saw the index gained as much as 243 points at its morning then attempt to hold to the positive ahead of the Fed decision on interest rates. They signaled an "obvious" struggling US and world economy by saying they would hold to the existing low interest rate environment for "at least another two years." This slow or no growth economy sent the markets instantly tumbling … but … as quickly as it went south, buyers may have had enough of the selling. The parking of capital at near zero was given a second thought and some may have decided that positioning in an over-sold equity was better than the yields available elsewhere.
Of course who knows what tomorrow will bring … we can only hope the jitters are enough to wake up those serving US in Washington DC?