Posted By RichC on August 10, 2011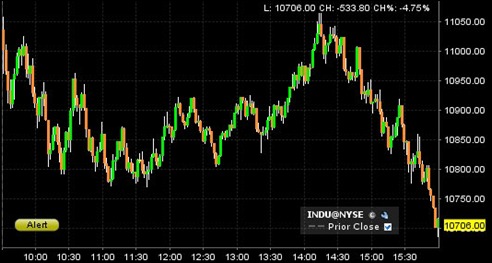 Maybe it just that we're looking to point fingers or for a reason to remain pessimistic in our interconnected economies, but most reports I've been reading are now looking at the possible downgrade of French banks … and government. This spilled over to US markets (particularly banking) and started the day negatively.
After some regrouping mid-day buyers of stocks started picking up a few shares, but by late afternoon selling accelerated based on fear of what tomorrow and the future holds. For the day, the Dow Jones Industrial Average fell 520.29 points, or 4.6%, to 10719.48, while the Standard & Poor's 500-stock index slid 51.83 points, or 4.4%, to 1120.70 and the Nasdaq Composite lost 101.47 points, or 4.1%, to 2381.05. All 30 of the Dow components and all 10 of the S&P 500 sectors were in negative territory.