Posted By RichC on August 2, 2011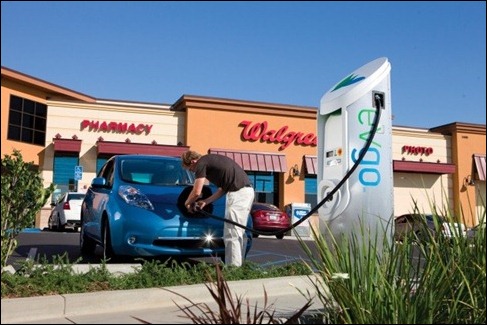 Although EV only vehicles are the best fit for many of us, some might be a bit more comfortable if they knew where they could get a 20 minute charge. Personally don't think we'll see wide acceptance until universal wireless charging system are adopted widely available AND re-charging is offered as an incentive (discount). Perhaps EVs would gain a bit more widespread traction? Unfortunately the 350Green/Walgreens plug-in stations (rumored to cost $3-$4/charge) are a pretty expensive way to zip to the corner drugstore … although cheaper than a tow home due to running the battery flat.
I think the best way to promote EVs will be through "green minded" private companies who encourage their employees to buy cars with incentives; perks such as closer parking and free daily charging … maybe even a company wide "group discounted purchase" option financed through the company or its credit union? Maybe Google, Apple or other deep pocketed corporations are already doing this – if not, it will probably be right around the corner.
Press release regarding 350Green and Walgreens:
350Green and Walgreens to Bring Electric Vehicle Charging Stations to the New York Metropolitan Area

The agreement will help accelerate development of charging station network in America's biggest city that has high adoption rate of electric vehicles and great need for fuel-efficient vehicles Los Angeles (July 21, 2011) – 350Green, a developer of electric vehicle (EV) charging station networks, today announced an agreement with Walgreens (NYSE, NASDAQ: WAG), the nation's largest drugstore chain, to offer convenient access to EV charging stations. 350Green will install chargers at a total of 425 Walgreen locations, starting with the New York City metropolitan area. With the first phase of installations scheduled for up to as many as 60 charging stations, including 10 DC Fast stations in the New York City region, which will provide an ideal platform for creating infrastructure needed to support EVs as they roll off the production line.

"As a part of our comprehensive sustainably program – PlaNYC – we have been working to arm New Yorkers with the facts about electric vehicles and to green City government's own vehicle fleet by adding electric cars," said Mayor Michael R. Bloomberg. "We have been working to increase the number of public charging stations in the City, but we need to see more locations for public recharging if we want to increase the number of electric vehicles on city streets. Walgreens and 350Green are making it easier for New Yorkers to choose electric cars over gas ones – an important step towards cleaning our air, fighting climate change, and reducing our dependence on oil."

Early focus on EV infrastructure has been on charging in home garages. However, the high number of residents in cities without access to a garage limits motorists' participation in the EV revolution. By creating a network of public charging stations, widely and conveniently located near where residents live and work, EV ownership becomes a universal option.

"Now, as more Americans embrace environmentally sustainable technologies, our convenient locations make us uniquely positioned to help address the concern around accessibility or 'range confidence'," said Walgreens President of Community Management and Operations Mark Wagner. "We look forward to becoming a destination for EV drivers looking to charge up." Depending on location and timing, 350Green will install either DC Fast Chargers, which can charge an EV in about 20 minutes, or Level 2 charging stations.

"To date the Department of Energy has invested $4.8 billion into the EV industry, laying the foundation for the free market to take over," said Mariana Gerzanych, CEO of 350Green. "We are excited to see private companies stepping in and investing as well. This project alone will create 54 jobs and will begin to generate jobs throughout the supply chain in other areas."

About 350Green
350Green is a project developer that designs, builds and operates a scalable, nationwide network of electric vehicle (EV) charging stations. The company partners with retailers, commercial property managers and developers, and municipalities to locate charging stations at places near where EV drivers live and work. Current projects are underway in Chicago, Pennsylvania and California. The company has signed partnerships with Walgreens and Simon Property Group, among others. For more information visit www.350green.com.

About Walgreens
Walgreens (www.walgreens.com) is the nation's largest drugstore chain with fiscal 2010 sales of $67 billion. The company operates 7,733 drugstores in all 50 states, the District of Columbia and Puerto Rico. Each day, Walgreens provides nearly 6 million customers the most convenient, multichannel access to consumer goods and services and trusted, cost-effective pharmacy, health and wellness services and advice in communities across America. Walgreens scope of pharmacy services includes retail, specialty, infusion, medical facility and mail service, along with respiratory services. These services improve health outcomes and lower costs for payers including employers, managed care organizations, health systems, pharmacy benefit managers and the public sector. Take Care Health Systems is a Walgreens subsidiary that is the largest and most comprehensive manager of worksite health and wellness centers and in-store convenient care clinics, with more than 700 locations throughout the country.