Posted By RichC on October 11, 2011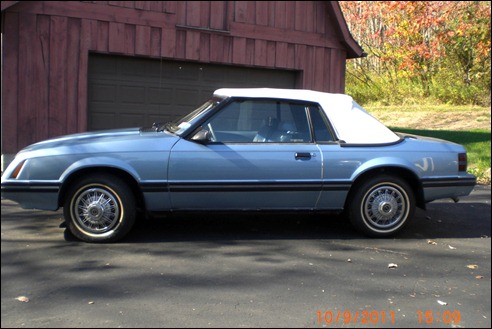 Interested in a 1983 Ford Mustang Convertible? My mother-in-law has finally and reluctantly decided to sell her car knowing that a second car isn't needed anymore. She has unfortunately put too many maintenance dollars into keeping this car in good shape, but it has spent most of the past decade parked in the garage. All in all, if you are interested in a Mustang Convertible of this era, this is a good one.
Before we list it publicly, I though I'd post it here to see if there in any interest from those interested in cars. Unfortunately it is not in Cincinnati, but in Jamestown NY. Send me an email if you are interested. (specs from my sister-in-law below)
1983 Ford Mustang Convertible
6 cylinders auto with 83,000 miles

Mom had a gazillion receipts in the glove compartment from all past service. Mileage 83,000 and something…….mom will check exactly tomorrow (I forgot to look)

It cleaned up nicely but I shampoo-d the carpets, ran it for about an hour-kept it opened to air all day sat……didn't run bad, started right up, put some gas in it, washed down the seats, cleaned out of the glove compartment, went thru the car wash-mistake with a convertible-multiple water leaks-mom says it has leaked some since she bought it, and I OPENED THE TRUNK, which I don't think has been opened in 10+ years…..

No rust on the outside, some inside the trunk near spare tire.  Top looks brand new-mom says she put new one on about 5 years ago.  Car actually looks really good and drove well for me but is not registered for road use so I was careful.

I have better pics on my other camera……I'll put those on my computer tomorrow and make a CD……….no rust on the body at all. Took more pics inside, of tires, trunk and top…..
We don't have an asking price yet (or confirmed with Brenda's mom), but if you are interested in first dibs, toss an  offer my way.