Posted By RichC on December 1, 2011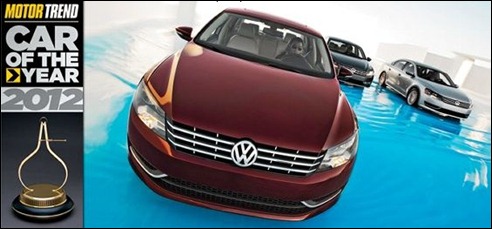 U.S. built 2012 Volkswagen Passat – Motortrend Car of the Year 2012
Volkswagen reported strong sales for November 2011, up 40.7% over last year. The new Passat contributed over 6000 units and the Jetta 11,131 units (a 58.9% increase year-to-date). The somewhat unique to North America 40+ mpg clean diesel models contributed to nearly 20% of all Volkswagen sales … which was up 36% year-over-year. The TDI sales numbers are especially impressive considering that the they are priced at a slight premium, are excluded from promotions and are only available in a couple of models.
HERNDON, Va., Dec. 1, 2011 /PRNewswire via COMTEX/ — Volkswagen of America, Inc. (VWoA) today reported 28,412 units sold in November 2011, a 40.7 percent increase over prior year sales. Year-to-date sales are up 25.3 percent.

"November has been a tremendous month for Volkswagen," said Jonathan Browning, President and CEO, Volkswagen Group of America, Inc. "With the 2012 Passat named Motor Trend"s Car of the Year, anticipated improvements in J.D. Power's Sales Satisfaction Index and once again double-digit sales growth, the proof points of German Engineering and our commitment to the U.S. market are all starting to come together."

In its first two full months of sales, the Chattanooga-built Passat outsold 2010's volume and acheived 6,018 units for the month of November. Jetta sales, including Jetta SportWagen, totaled 12,891 units, a 15.6 percent increase over last year. The 2012 Beetle sold 1,656 units.

GTI sales increased 33.3 percent while Golf sales rose 37.5 percent versus last year. The Eos and Tiguan SUV posted 53.0 percent and 11.4 percent sales increases, respectively. Volkswagen's high-mileage, clean diesel TDI models accounted for 19.8 percent of all November sales, up 36.0 percent year-over-year.