Posted By RichC on August 1, 2012
I'm keeping my eyes on replacements for my Palm Pre and it is interesting to see what is being offered by Sprint.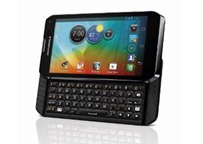 I'm also contemplating what the new iPhone will be like and if it will be worth the money. That said, I do like what I'm seeing from Motorola, as the physical keyboard does gets my attention; I doubt Apple will ever offer one.
The specs on the Motorola Photon Q look pretty interesting … 4G LTE, Android 4.0.4, slide-out QWERTY keyboard, 8GB camera, memory expandable to 32GB card. Hmm, I wonder what the battery life will be like?
FAST FACTS:

·         Sprint's first 4G LTE device with International roaming GSM capabilities and QWERTY keyboard

·         1.5 GHz dual-core processor for quick downloads and app performance
·         Five-row, slide-out QWERTY keyboard with large 4.3-inch ColorBoost™ display

·         Built with Android 4.0.4, Ice Cream Sandwich

·         Enterprise Security

·         3G/4G LTE Mobile Hotspot capability for up to eight Wi-Fi enabled devices (additional fee required; International Hotspot only supports one user)

·         Corporate (MS Exchange ActiveSync) and personal (POP & IMAP) email access

·         Messaging – personal and business email, Google TalkTM instant message and text messaging

·         Sprint ID offering an innovative way to personalize an Android smartphone with apps, widgets, ringtones and more all in a single download

·         GPS navigation enabled

·         NFC support to share links, apps, YouTube clips and more with Android Beam

·         UL Environment (ULE) Platinum Certified, the highest level of environmental performance recognized by sustainable requirements established by UL Environment and Sprint


ENTERTAINMENT:

·         Dual cameras – 8MP rear-facing camera and a front-facing HD camera

·         1080P HD video capture and playback

·         Google Play™ with more than 600,000 apps, millions of songs and books and thousands of movies, Google Play™ has something for everyone

·         8GB of on board memory, support for up to 32GB SD Card, for a total of up to 40GB

·         Bluetooth® 4.0 w/ EDR

·         Wi-Fi® b/g/n

SPECIFICATIONS:

·         Dimensions: 2.6 inches x 4.98 inches x 0.54 inches

·         Weight: 6 oz

·         Display: 4.3-inch qHD 540×960 TFT LCD

·         Internal Memory: 1GB RAM x 8GB ROM

·         External Memory: supports up to a 32GB microSD card (sold separately)

·         Chipset: Dual Core 1.5GHz

·         Frequency: LTE, CDMA 800/1900 EVDO Rev A, World Phone – GSM 850/1900/1800/900, UMTS 850/1900/2100 (SIM is embedded in the phone, GSM SIM is locked and not removable)

·         Battery Specifications: 1785 mAh Lithium-ion battery (embedded)

·         Talktime: up to 7.5 hours