Posted By RichC on August 11, 2021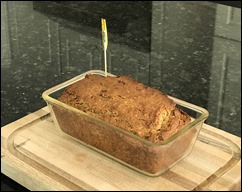 Generally we (really just me) eat up the bananas before they go too soft or brown, but when they do, I make banana bread. Slowly but surely I've been tweaking my recipe (below) … usually adjusting the amount of bananas (and how soft) and the 1/2 – 3/4 cup of sugar part. This past week, I think I found perfection … although NOT using the toaster oven to bake bread was a big improvement.
As for the "a place for everything, and everything in its place" idiom … I finally figured out how to conveniently store our cheap little 110 volt "DustBuster" type sweeper … that we use all the time to sweep kitchen crumbs off the wood floor … by making a scrapwood holder from some recycled maple (antique letterpress type galley trays) and a chunk of 5/8" oak dowel. The best part was that Brenda loved it and commented, "why didn't you save that for my birthday?" (Cough, cough … because I already bought you something. 😉 )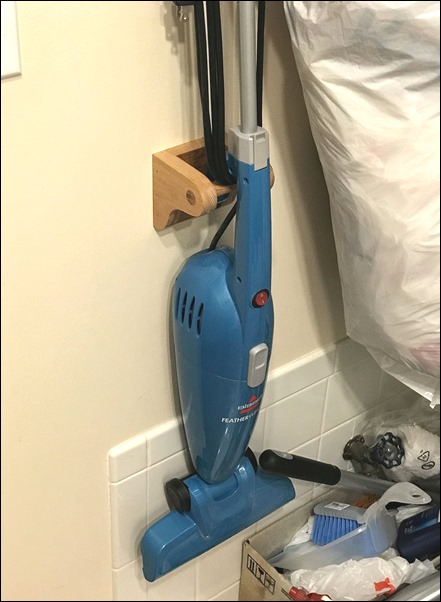 Rich's Tweaked Banana Bread Recipe:
2 ripe + 1 very ripe banana
1/3 cup melted butter
1 teaspoon of baking soda
3 shakes of salt
3/4 cup of sugar
2 medium to large beaten eggs
1 teaspoon of Vanilla Extract
1-1/2 cups of all-purpose flour
Mash bananas in a mixing bowl until smooth then mix in melted butter with beaten eggs and teaspoon of vanilla extract. Dry mix baking soda, salt and sugar separately then mix into banana mixture before adding flour.
Preheat oven to 350 and butter or spray breadpan to prevent sticking. Add mixture to bread baking pan and bake for 50 minutes (convection) or 60 minute for oven. Check with long toothpick until it comes out clean.
Let cool a bit before removing from pan. Then let cool on breadboard before slicing. Taste best with butter and slightly warm (my personal preference)