Posted By RichC on September 6, 2013
When I first started my company, I had the privilege of learning about "taking care of customers" from Earl Gerber who was a long time business and sales professional in northeastern Ohio. Earl passed away at 92 in Cleveland this past week, and even through all his age related ailments, I never heard him complain. He was a positive role model for me and those that knew him.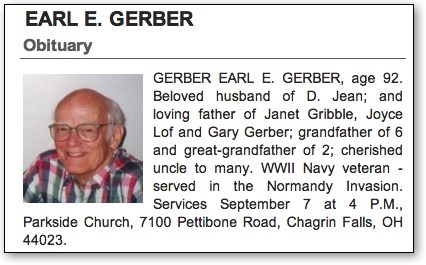 Brenda and I met Jean and Earl through the same growing church in Solon Ohio — at that time we were meeting in the Solon High School auditorium … now Parkside Church. Brenda's sister (Ann) met Earl and Jean's son Gary (now my brother-in-law); they married and the rest is, as they say, "history." Throughout the years we enjoyed including Jean and Earl – or Gerb as we fondly knew him – in our extended family gatherings. In fact Taylor and I were recently listing all the cars I've owned in my lifetime and I remembered that Gerb bought out the lease on one of my company cars (a silver-grey '84 Chevrolet Celebrity Eurosport). He will be missed especially by his loving wife Jean … but we ALL rejoice in the knowledge that he knew the Lord.