Posted By RichC on September 13, 2013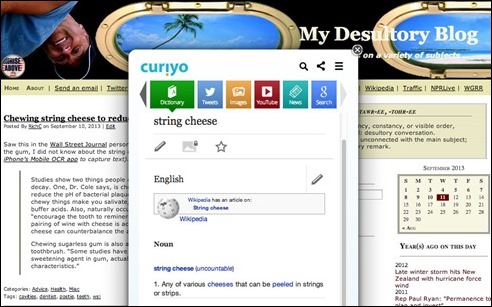 After hearing about the Curiyo browser add-on from Walt Mossberg on AllThingsD, I figured I would give the "pop-up window" lookup app a try. My first concern was bloat. In years past, adding plug-in and add-ons has been nothing but problems for those of us wanting to try the latest and greatest widgets, for lack of a better word. I swore off installing anything browser related for the longest time as my notebook computer found its RAM and processor taxed. With even a minimal number of additions to any browser (but particularly for me, Firefox), I could not keep things running smooth. Add to that Microsoft's Window OS the inability to keep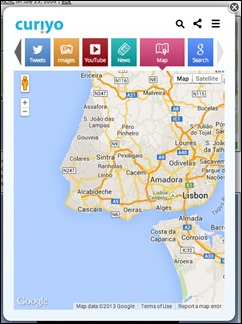 the itself running at a fresh install speed, it made a frown cross my face every time I booted my "old" computer or returned to Firefox, my preferred browser at the time (pretty much adopted Chrome as my default nowadays).
Anyway, back to Curiyo. It's a browser app that bring information to a pop-up window within whatever page you are reading … be it a dictionary term, Wikipedia article, social comment, etc. I can't say I'm instinctively using it yet, but clicking on one of the lightly underlined term or holding the mouse button down over a word makes looking something up a breeze. No more opening a new tab or window and then Googling the copied text – its all right in a pop up box with buttons for different websites (using the "Map" was really handy. ie image to the right).
So far I'm only a couple days into using Curiyo and have no plans to uninstall it from Chrome unless it starts to bog things down. That's sort of an endorsement.