Posted By RichC on November 12, 2013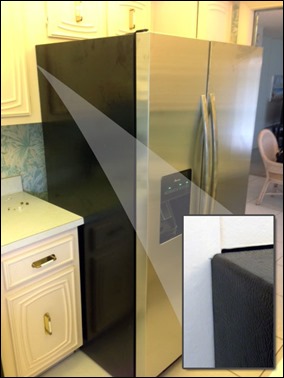 The excuse I made for putting the boat in the water this week was that I would purchase a new refrigerator and have it installed in the Howard family condo before our snowbird tenants arrive in January. Sounds like a simple enough plan, right? Not so this week. The buying was easy enough as I found the exact size, model and sale price at the neighborhood Home Depot, but then came setting up the delivery – only available slot was my last day in Florida. Whew!
I did my homework and measured the opening width (at the counter) and carefully check the height. Tight, but all good. What I failed to do was to check the measurement between the cabinets that hang down and the wall … about a 1/4" narrower. Yikes. Of course this oversight wasn't obvious until the delivery guys removed the doors to get the frig in the kitchen, hooked up the waterlines and begin to slide it in – it didn't fit. Good grief Charlie Brown! What more can go wrong this trip. Thankfully there was still time in the day to meet with one of the retired handyman guys in the complex who has handled similar issues and is a trustworthy neighbor. We discussed the "fix" and is planning to tackle things later this week or next. On a bright note, the new refrigerator works, I plumbed the new fittings and just heard the first ice cubes dropping into the tray!