Posted By RichC on September 18, 2014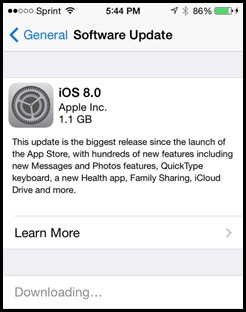 Most of Wednesday evening was spent backing up and cleaning up … and then downloading and installing Apple's iOS8 release on a couple iPhones and an iPad (if full iCloud functionality is desired, then prepare for Mac OSX Yosemite install). Once finished, then the app update fun began and so as a reminder to those who have not updated, be sure you are in a patient mood, have plenty of free storage space and stay connected to a fast Internet connection.
Apple iOS 8.0 is 1.1 GB for my iPhone 5s and nearly that for an iPhone 5 and iPad 2. It's a slow process, not only to download that much data, but to unpack and install on each device, which takes place automatically.  The iPad 2 was the slowest, although all went well. The final step after going through the set-up screens is to start the app updates … and depending on the number of apps …  can take a LONG time. For example, download for Apple's productivity apps like Pages, Numbers, Keynote and iMovie, not to mention a couple of Microsoft apps is hefty; all totaled my MANY app updates will take a couple of gigabytes of space!