Posted By RichC on October 15, 2014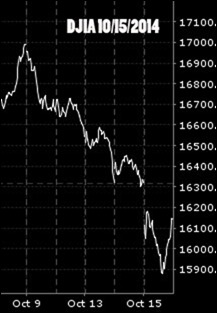 It's October … why would anybody be surprised by the market heading violently in the down direction? I posted earlier this afternoon while watching the market selloff across the board and figured the end of the day deserved an update. 
At one point the Dow was down 460 points with most stocks moving sharply to the down direction. By the end of the day, the DJIA closing down only 173.45 or 1.06% to 16,142 made the close tolerable. A few areas are concern are also a positive – that of oil prices. With WTI nearing $80/barrel due to plenty of crude oil on the market, gasoline and other fuels are less expensive. Unfortunately it is happening due to an economic slowdown in many areas around the world. This also impact our U.S. energy sector, one of the bright spots in the economy. Here's a short audio clip of Chris Faulkner, the president and CEO of Breiltling Energy discussing his concerns with Kelly Evans of CNBC:
| | |
| --- | --- |
| | Breiltling Energy CEO Chris Faulkner with Kelly Evans on CNBC – 10/15/2014 |
Hmm, U.S. Bakken oil costs $60 to pump out of the ground and an additional $10-$12/barrel to transport. How much profit can be made if oil prices go much lower than $80/barrel? An energy slowdown in North Dakota?