Posted By RichC on January 1, 2015
The year 2014 ended on a rather positive note thanks to lower oil prices, low inflation and higher stock prices. Considering the economic malaise most Americans have endured most of the past 7 years, a little optimism feels good.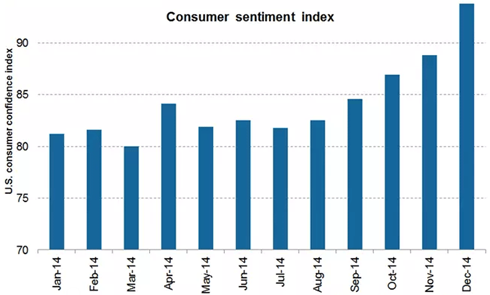 Consumer confidence climbed to 92.6 in December as measured by The Conference Board's private survey and much followed University of Michigan's consumer sentiment index is at 93.6, its highest reading since before the recession began in January 2007 (link). This positive outlook along with having a few more dollars to spend should help the economy … but there is plenty to worry about – international and domestic unrest, mounting debt and a non-functioning federal government. Don't get me started, this is suppose to be a "Happy New Year" post.



On a blog housekeeping note, I've been hoping for a little more feedback from readers on my blog. Commenting using Disqus is a pain, but dealing with spam and more data on my WordPress install on my end is a bigger pain … so I'm going to try out a  ULike  "thumbs up" plugin button. I'll put it on the

main page for now and wait for positive or negative feedback. Click it if the content appeals to you … ignore if the post does not. 
The traffic on MyDesultoryBlog is up for the year which is exciting on my end … and "not that readers care," but revenues from the limited ads is up too. The income from blogging is never going to feed us, but I am amazed a few ads get clicked. Thank you.
This years FIVE most read or linked posts were as follows: