Posted By RichC on July 19, 2015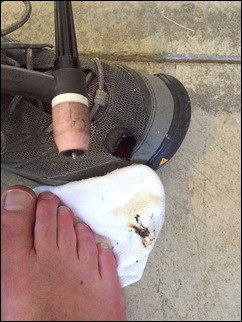 I "know better" than to wear shorts and non-leather shoes when welding … but with the shop temperatures in the 90's I ignored the safety rules and ruined my pair of good Keen shoes.



Thankfully, after burning through my sock (don't normally even wear them) the hot slag didn't seriously burn my toe, but did have me kicking off my shoe pretty fast!
It has been a while since I had my TIG welder out for any repairs and with Brenda out of town having a garage/estate sale with her mom and sister up at the Farmhouse, I opted to work on a couple "me" projects this weekend. Saturday's welding was half practicing on aluminum with TIG and half a bench/ storage unit for the low-mile 2002 Honda Odyssey that I purchased from my dad back in May. The older Odyssey was mechanically a little too good to sell at book price so even though we already have too many cars, I decided it was an excellent "work" car for hauling and my trips. Who knows, I might even decide to keep it in Florida?