Posted By RichC on August 21, 2015
Even though I've already posted on the recent plummet in the financial markets , the heavy volume and substantial daily moves like we've seen the past couple of days deserves a second post.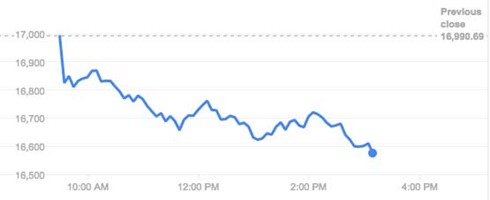 Dow Jones Industrials on Friday afternoon August 21, 2015
Friday (August 21, 2015) was another sour day for investors who are holding stock and is particularly painful for those (like me) flirting around with oil stocks and adding a few shares in hope of finding a bottom. Of course all of us calling for a bottom in oil have been wrong so far, so there is little reason to think Friday's crude oil trading under $40/barrel is the end to the weakening world economy. We definitely live in an age where all trading partners are interconnected. Maybe in the long term we will look back on this as the best opportunity to rebalance a portfolio and in particular pick up leading companies "on sale?"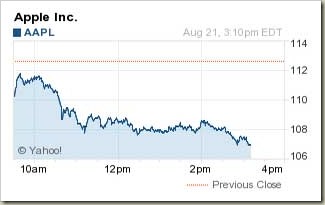 The optimist in me would like to think that.
Apple joined the list of Dow companies leading the market lower.  Although $AAPL still sits on a pile of "offshore" cash, they are currently struggling to convince investors that they have products in the pipeline that will continue to keep consumers paying a premium for their products. I suspect the big worry is China and if the iPhone will continue to be desirable?