Posted By RichC on October 28, 2015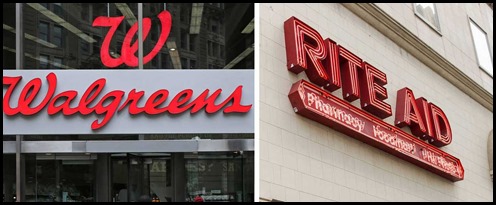 With a few connections in the drug store world, it is always interesting to see who's next in the acquisitions and mergers. On Tuesday, the financial news filled up mid-day with the latest deal: Walgreens Boots Alliance seeking to buy Rite Aid Corp. This would merge the second and third largest chains together and reduce competition in many cities. Of course there is still CVS and many smaller stand alone stores and chains … and most of the big box stores and grocery chains are also competing in this business. The potential merger could grow scrutiny from antitrust regulators.
A deal is expected to be announced Wednesday, according to people familiar with the matter. Rite Aid had a market value of more than $6 billion Monday afternoon, meaning that with a typical premium, a takeover deal could value the company at close to $10 billion. That doesn't include its hefty debt load, which totaled $7.4 billion in August.

Rite Aid shares surged 38% to $8.38 after The Wall Street Journal reported the talks, while Walgreens rose 5% to $93.95.

A combination of the pharmacy chains would come amid waves of mergers in various corners of the health-care industry—from drug makers to hospital chains and insurers—as the federal health overhaul known as the Affordable Care Act and other developments pressure companies to lower costs, bulk up and increase leverage with suppliers.

Putting their drugstore networks together could yield cost savings at a time when the companies have been beset by drug-cost inflation. Other benefits could be derived from marrying Walgreens' wholesale operation with Rite Aid.