Posted By RichC on April 1, 2016
It has been a couple months since I backed the Pine A64 Kickstarter, but I did noticed my credit card was billed last month … meaning it was shipped???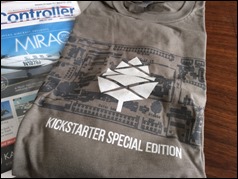 Besides the hint of a March shipment in a previous email, there hasn't been an update as to "if" the micro 64-bit computer board has left China yet. So you can imagine when a packaged appeared I was excited thinking the computer board was here … but alas … 
it was only a t-shirt.

Nevertheless, I am anticipating the Pine A64 sometime this month since the earliest backers are receiving their boards … with a few complaints I might add. Hopefully there will not be a problem with my board.
Last week I also stopped at Microcenter and pick up a new Raspberry Pi 3 starter kit … it will be interesting to set both micro computers up together and compare.