Posted By RichC on December 10, 2016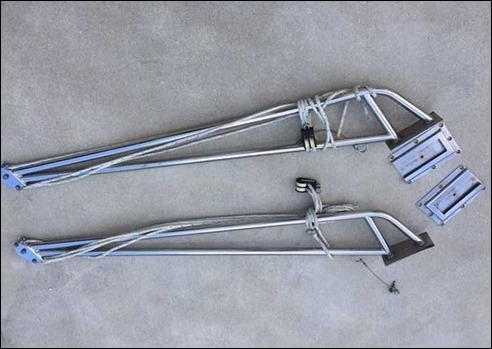 In continuing the quest to be able to bring along our fully inflated Zodiac dinghy when gunkholing aboard Encore, I am still pondering an inexpensive davit option. The dilemma has been trying to keep the Capehorn Steering gear (hopefully functional) while still "safely" toting along a dinghy. The foredeck space is limited since the baby stay prevents deck storage of a dinghy so we're down to towing, davits or a roll-up inflatable (our current Zodiac). Eventually I would like a large tubed, lightweight aluminum bottom ultralight AB inflatable, but still would need a way to hoist it out of the water.
—
Big concerns are stability and reach in our current set-up not to mention the "rolling" problem and having windage (and following seas) messing with whatever we have hanging on the stern. If I can get the above at the right price, it will be worth experimenting … besides fastening to the deck with SS plates, I could clamp the upper support arm to the middle stern rail?