Posted By RichC on September 15, 2017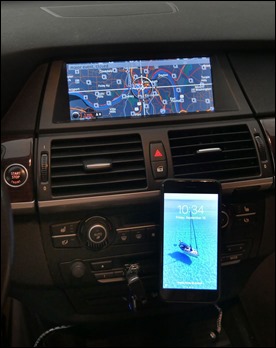 In anticipation in receiving new iDrive display and components from a "group buy" on the BMW diesel group I belong to, I made a new CD/DVD slot bracket for the previously installed Nato Smart Mount. The previous location was fine for the older small iPhone 5s, but after updating to the much larger iPhone 7 plus, it wasn't all that easy to use … but that aside, the eventual new higher resolution and larger iDrive display will take that space (stay tuned).
The new homemade aluminum bracket fits into the "rarely used" CD/DVD slot, but will come out as needed IF the slot is required. For now, the iPhone 7 plus is much sturdier to the touch when on the magnetic mount since it also rests against the dash (we'll see how the wiggling is later as I've not taken a trip with it yet). About my only real concern is that my rather tall wide mouthed Klean Kanteen stainless steel water thermo may not fit in an out of the cup holders under the mounted phone? Coffee cups, cans and 16 oz water bottles are fine, but the 10-inch tall insulated container is too large … but I usually toss it in the door pocket anyway.
I've rerouted my Apple lightning charger cord temporarily since I also opted for the add-on Apple CarPlay adapter in the "group buy" in order to interface the iPhone to the new iDrive display (should be here soon) because it requires a plug connection – will not function fully via wifi or bluetooth. Hopefully the extra dollares will be worth it, but it may be more of a limiting nuisance than useful add-on?