Posted By RichC on February 28, 2018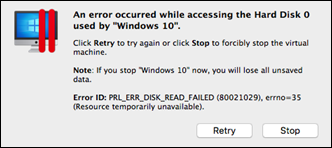 What a pain. I had a major crash on my iMac and wiped out my Parallels install (corrupted the virtual hard drive).  One would think this would be an easy fix, but it wasn't.
I spent about 6 hours attempting fix after fix to restore a back up version of the virtual disk (Apple's Time Machine) but it wouldn't recognize. I attempted to recode several config files and likely messed it up even further. Eventually I restored everything Parallels related including the afore mention .pvm virtual disk folder from my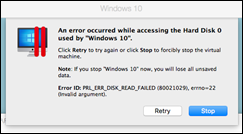 earliest Time Machine backup and finally it looks like I'm back in business. I checked the Mac disk for back sectors, but all came out clean (although I think Mac OS remaps?)

I'm crossing my fingers for now and will carefully tweak any changes and updates incase something recent corrupted my Parallels install?