Posted By RichC on March 14, 2018
After switching from TWC/Spectrum one year ago, Cincinnati Bell's Fioptics (Fiber) delivered television video and Internet to our house as been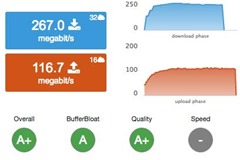 excellent. Their Internet speed continues to rise (currently checking with DSLReports/speedtest).
Last year I was happy to have my speed increase to 100Mbps down when switching to CincinnatiBell, but then after losing promotional perks was disappointed to have my bill rise by 35%. After complaining and several calls, my account was mildly adjusted (still 25% higher than the 2017 promo) and a promo tweak boosting Internet speed from 100Mbps to 300Mbps. Unfortunately we're hitting a speed where "tripling" doesn't make much of a noticeable different.
This week a promotion arrived offering to increase speeds from 300Mbps to 500Mbps … just as my computer, router, network and MIND are slowing down.