Posted By RichC on December 1, 2018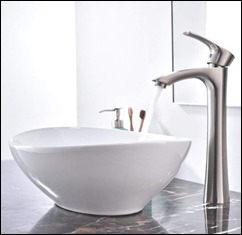 During the last trip to the condo, we enjoyed the fruits of our 2018 labor – our recent kitchen and bath updates. As is the norm for us, we discussed future projects, like updating the master bathroom too, since it looks stodgy compared to the guest bathroom.  So IF we don't find a buyer for the condo this winter while our renters are there, I may give bathroom number two a facelift next year.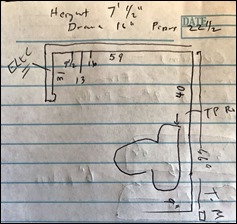 It is a small space with currently only a single sink in a large vanity. With a little creative 'space-finding,' that I can custom build a couple of corner vanities, replumb and rewire the electrical and upgrade the tile. Brenda can do some painting and come up with a mirror and lights that satisfy her. She liked the "vessel" sink in the guest bathroom well enough to want to do a couple small sinks in the master bathroom so we've started the sizing and searching. I've sketched out the idea and made a full size template in order to visualize the perceived space gain and see if it will work. It is still tight, and will likely offend those who love to spread their bathroom accessories out, but will work. Besides, I'm not fond of seeing the clutter in our home master bathroom let alone a mess in even a smaller space. We'll see if the idea is still with me in the spring; for now, I'm just archiving ideas and thinking.