Posted By RichC on January 27, 2019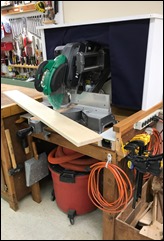 After finally removing my built-in radial arm saw from my workbench, I was able to rework the area attached to my workbench in order to fit my "somewhat new" 12" Hitachi Miter Saw. With this new sliding miter saw, I no longer have a need for bulky power tool duplication, and as a workshop accumulates "stuff,"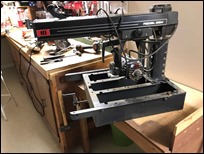 space becomes a premium. Not to worry, I'm going to cut new base and sacrificial material for the 10" radial arm saw and set it up for Drew in hope it serves him as well as it did me.
The final steps in completing the miter saw's new home was the dust box fabric surround. It is probably overkill, but I used some leftover Sunbrella from my generator project (started – finished) and Encore's bimini patches with some sewing in cording and bungee cord stretch for cutting at angles. I'm not sure it does all that much to reduce dust, but along with the dust collection that plugs in where the bag usually hangs, I should help a little bit … at least it did for my radial arm saw.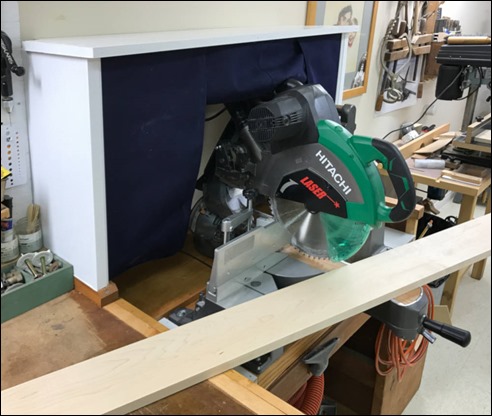 The new saw is still very portable as I mounted it to a 2" x 2" oak frame base that slides into the bench and locks sturdily in place with a single bolt. Remove the bolt, unplug the power and dust collection hose and it is ready to go to a job site (which is good because I'll be needing to do that later this spring … but for now, it is the new bookshelves in our music room/library).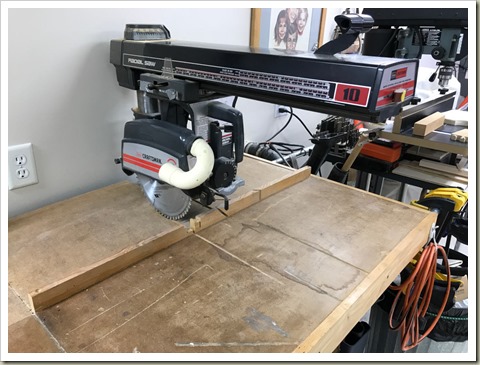 The old original Craftsman Radial Arm Saw just after removing dust box – 1/9/2019
All in all I'm relatively happy with the new set-up … and along with moving my small drill press onto my router table a few feet further away it make cross-cutting long material easy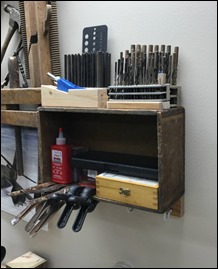 (especially since I can set the height of the drill press table to match the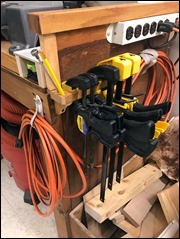 bench/miter saw height). I've also mounted one of my dad's old wooden boxes that he kept rusting hinges in as a shelf for my drillbits and similar tools.
I moved my always in use squeeze bar clamp storage from a simple hook them over a rail to an add-on side shelf (limits number of clamps)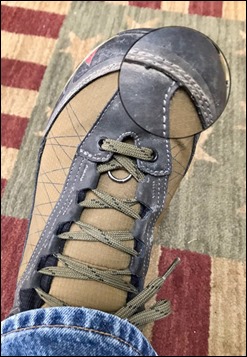 but might end up re-working it IF I add additional clamps – for now it works (bar clamps are kept on a different wall and pinch clamps are all over the place).
Finally, the "things we take for granted" reference has to do with sewing and stitching. After working on the few sewing projects that I have tinkered with over the past couple of years, I have an entirely new appreciation for what it takes to sew. As with learning new things, something that should take an afternoon, turn into hours and hours. I'm reminding myself of this as I'm thinking about a 2019 "want to do project" – recovering the dining room chairs of the condo and wicker couch and love seat. Hm??
I glanced at my Vasque hiking boots this morning and admired the tight close-to-the-edge stitches. Having attempted even to sew a straight line has me appreciating what it take to make quality shoes and boots to that degree of precision. It is amazing what we take for granted.