Posted By RichC on September 7, 2019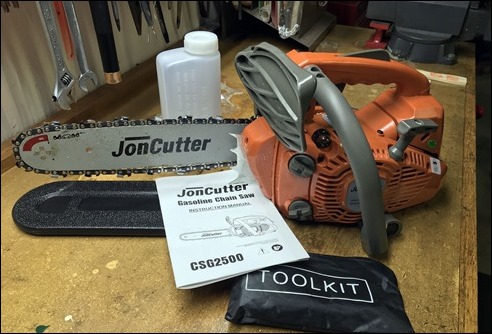 After giving away my "newer" Poulan chainsaw to the hard worker we hired to stain our fence this summer … so he could clear our neighbors fence line and stain his fence too …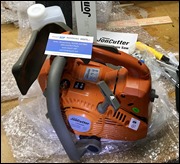 I replaced it with a low cost Arborist climbing and limb cutting saw without paying attention to the month-plus delivery timeframe (I wanted a super-lightweight top-handle saw since I still have my large, heavy McCulloch 610 for log cutting).
Since the Chinese-made JonCutter Farmtec saw fit the bill (cheap) and had positive reviews, I bought it before realizing the delivery delay and so ordered the parts to "bring my OLD Poulan back to life." Now I have 3 saws … such is my toolaholic addiction.
Speaking of ordering, I continue to have problems with delivery dates/times from Amazon and this time, on top of a delivery delay, the box of staples was tossed into a Prime Shipping bag and arrived like this … someone should know better. Of course after complaining to Amazon, they refunded my $4.00.