Posted By RichC on January 15, 2020
A year or so ago, I "was" planning to give the Amazon Key service a try by having shipments delivered to the condo in Florida when we are not there. So I purchase a smart lock and then realized that Amazon didn't offer Key delivery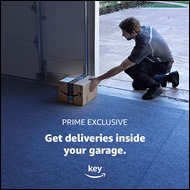 services in Delray Beach. I sent it back as I really wasn't that comfortable with the idea anyway.
For Christmas this year, Katelyn and Drew gave me the hardware so I could connect our overhead garage door to a cellphone app (and eventually to our smarthome devices with a little IFTTT tweaking). I was skeptical that it would work on our pool house detached garage since it is a commercial unit and does not work with built-in car remotes etc (saved this for the Honda but never could get the commercial version of "rolling codes" to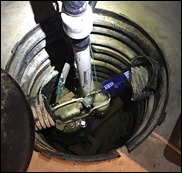 work – nor would the BMW X5 35d).
Now that the garage door is working, how about setting up Amazon Key for the garage door (here's a recent Verge update on using garage door openers with Amazon Key).  A few click later KEY was set up … but untested … until this week when I ordered a new Zoeller sump pump and switch to rebuild the old corroded pump so I have a backup (My Jerry-Rigged sump pump is temporarily doing the job).
Hey look (my WyzeCam Pan video below) … lo and behold, Amazon Key for Garage worked.

What is Key by Amazon In-Garage Delivery?
Protect your packages by getting them delivered into the safety of your garage — perfect for when you're at work, away or even on vacation. Get started with the Key by Amazon App and a Key by Amazon Smart Garage Kit.

How does it work?


Eligible Prime Members can shop on Amazon and choose In-Garage Delivery at checkout. You'll receive a mobile notification before the delivery driver opens your garage door and immediately after it's securely closed. With an optional Amazon Cloud Cam (Key Edition), you can watch the delivery in real-time or see a video clip later.

Who unlocks my garage using the Key by Amazon app?
Your security is our top priority. That's why you always have total control. For added layers of security, we confirm the authorized driver is at your address with the correct package before access is granted. No access codes or keys are given to the driver. You can also block access from the Key by Amazon app if you change your mind on delivery day.
"A customer's privacy and security are very, very important," says Teysa, a Key by Amazon Delivery Driver. "I'm a Prime customer also. I know how I would want my package delivered so I always keep that in mind when I deliver packages for my customers."

What if something happens?
Every delivery is backed by the Key by Amazon Happiness Guarantee. If your experience was not completed to your satisfaction, we'll work with you to correct the problem.

Are there any restrictions?
You can receive tens of millions of Prime-eligible items with in-garage delivery. EXCLUDED items are:

Items fulfilled by a third-party seller
Items that weigh more than 50 pounds
Items with dimensions that exceed 26 x 21 x 16 inches
Items that require a signature

Learn more about Key by Amazon In-Garage Delivery.