Posted By RichC on March 14, 2020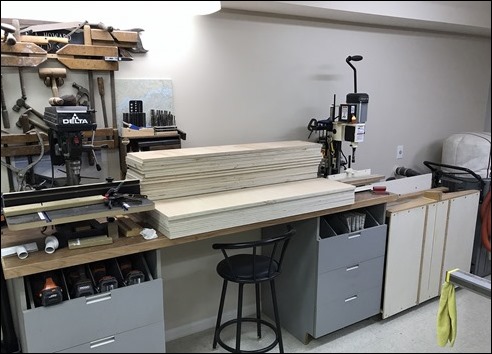 It was a tiring week with the drip, drip, drip Coronavirus news and highly-reactive financial markets. Although frightening, investors rightly or wrongly responded with a selloff of historic proportions. The entire meltdown seemed more like hysteria and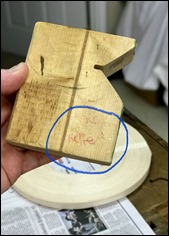 panic and had me wondering how our country and nation ever faced plagues, a weak economy due to serious financial malpractice, large scale terrorism and a world at war? Perhaps we've all become complacent thinking disease or bad things would never happen again?
Health and financial stress aside, I escaped into the workshop and started my long-in-planning Music room / Library remodeling and bookshelves project. Even with the stress, I did smile upon noticing one of my corner-clamping blocks had been tamper with by a little girl (Katelyn) back in the late 1980s (photo-left).
My ambition was less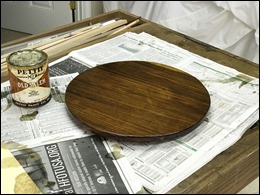 than it should be as we instead decided to watch a couple movies as well as with the distraction of other non-important projects. Bird deterrents and crock lids for the patios were sitting on my workbench so I glued together some scrap wood and used up some old varnish on the walnut one as well as some REALLY old "green"  Petit marine EZ-poxy paint from the 1980s that was still useable, which was shocking (I used it to paint the name Brenich on our first boat – good memories).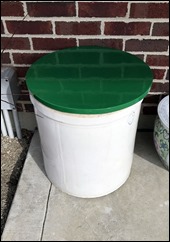 It was shocking that the paint still mixed, brushed and dried after over 35 years!
The second distraction was the arduous job of moving everything out of the room and then finagling a way to move the piano; it was tedious … especially sensing skeptical Brenda hovering over my shoulder.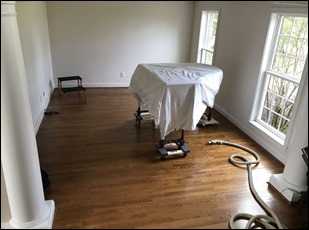 All good in the end and I did at get the 4 HEAVY sheets of 7-layer maple plywood rough cut to shelf size … should have put on a mask because of all the dust … but alas there are no more to be had (a semi-attempt at joking about the hoarding and emptying of shelves in stores due to COVID19 now in our area).  
First positive coronavirus cases confirmed in Greater Cincinnati, UC Health officials say

BUTLER COUNTY, Ohio  – Four patients have tested positive for COVID-19, UC Health officials announced on Friday.