Posted By RichC on March 23, 2021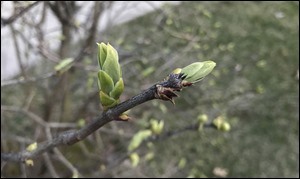 Besides what has become an annual photo of one of our lilac bushes pushing out buds, this past weekend was the first weekend of spring. Besides the new growth and greening lawn, we celebrated with our neighbors of 25 years, Pam and Jim by attending  their son's wedding in Cincinnati. It was a beautiful wedding for a beautiful couple. Congratulations Andrea and Jared Miller.  
The great part for us was that the wedding was in East Walnut Hills at St. Francis de Sales Parish with 2+ hours between the service and reception dinner which gave us the afternoon to "walk" over to Taylor's apartment and visit with him. Megan has given his apartment a female touch, although Taylor is just fine when it comes to caring for and decorating his place .. it has been a few years since college (wink, wink). It was great to spend the afternoon before driving down the the Bell Center for the reception and evening. We had a great time.