Posted By RichC on September 1, 2021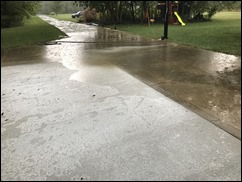 Who knew we would be having so much rain in late August? It has been a pain for the crew trying to finish our concrete driveway project … but the "big pours" should be done for now and "I hope" they will be back to address a puddling issue in the rear (something I mentioned a few times and talked about with the foreman and was assured the pitch was correct. It was not.)  So I'll archive the problem and save the photos before they come up with a solution, although I'm sure they are sick of trying to finish our job and would like to move on.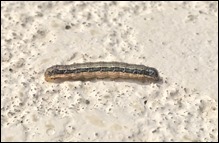 As for my Sod Webworm problem … it happened overnight … or at least it seemed like it? One day the grass was green and enjoying all the August moisture, the next day it was brown and gone. No need to mow it since it was full of fat juicy sod webworms (A LOT of them).
I quickly sprayed all the insecticide that I had (too late) and invited the birds to have a feast, but doubt I will get ahead of them? Thankfully, unlike grubs, they "supposedly" eat what is green and the roots will grow new grass again. Let's hope.
How do you kill sod webworms?

Sevin® Insect Killer Granules treat sod webworms above and below the soil line. Apply the ready-to-use granules with a regular lawn spreader and water immediately, according to product label directions for sod webworms. This releases the active ingredient to reach the pests in thatch and as they feed.