Posted By RichC on February 18, 2022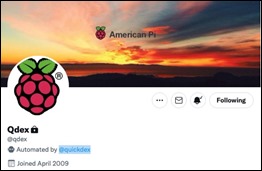 Over the years of playing (learning) Linux, setting up APIs and running webservers on a few Raspberry Pi computers, I've set up a Twitter "bot" in order to track them and keep them running.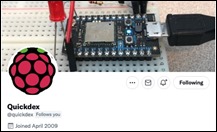 Last September 2021 Twitter launched an experiment of labels for these kinds of accounts that was voluntary. I run a "bot" for this blog (not on Raspberry Pi computers and I have not set it up yet) and another on to update my Quickdex "bot" (on the Raspberry Pis) which is Qdex (sample below, now setup).

So far so good and the only notification is that each Tweet is now labeled "automated" and under the Qdex profile is indicate that the account is "Automated by @quickdex." Someday maybe I'll work a little more on the Quickdex database project, although I did connect earlier this week with entrepreneur James Altucher on his latest website idea.