Posted By RichC on May 18, 2022
When the weather finally warmed up and I was motivated to head outside to work in the yard and start cleaning things up around the house, it was good for my activity level.

Let's see if this will correspond with losing a few pounds and getting a little healthier – it certainly can't hurt (a positive report after my April colonoscopy already mentally helped).

My Fitbit report noted I almost hit my 10,000 steps per day goal last week and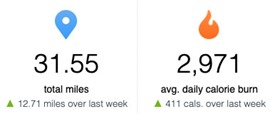 even if the battery in my Versa isn't lasting a full day (a lame excuse). Excuse aside, I'm going to stick with it and work a little harder to add some extra walking to my chores as the days get longer and see if I can hit my 10K/day  target. I'd really like to get my weight down to under 190 pounds too. 😉
Brenda and I are also sticking with the Hello Fresh meal plans which definitely taste great and should be "healthier" than what we would normal fix. I'm hard pressed to remember our last meal out at a restaurant?