Posted By RichC on July 17, 2022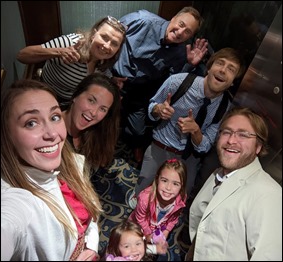 Well … this is part 1 of the Canadian Rockies 40th Anniversary wrap-up (a pre-post was made last week) and since there are just WAY too many photos and memories to recall for just one post (the curse of multiple smartphones with cameras that also shoot motion GIFs and video). It was much simpler 34 years ago when we took MomH and DadH (Brenda's siblings and spouses) and had just one hefty video camera … or even on a father-son trip when Taylor, Jeff and I did in 2005!
First … let me say thank you to Katelyn and Taylor (Drew, Annalyn, Ellerie and Megan) for planning such a wonderful 40th Anniversary for Brenda and me. It was so much fun to be there with everyone and to enjoy the beauty of the snow cap mountains and great townhouse in Canmore, Alberta, time in Banff and many crazy hikes and dinners. It was capped off with a deluxe stay at the Chateau Lake Louise; too much beauty to absorb in one short week … but so appreciated. Thank you!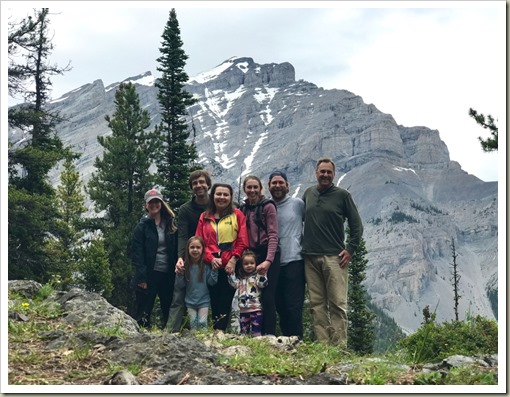 We began our traveling from three separate airports on three separate airlines, not necessarily on purpose, but due to the airline fiasco (the summer after the COVID pandemic).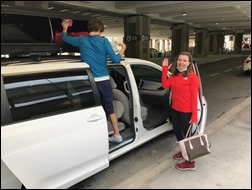 Brenda and I were suppose to meet KDAE in Toronto and fly Air Canada with them to Calgary, but our flight was canceled so we flew United through Chicago instead – all was fine. We arrived early and waiting only a short time at the Calgary airport ready for Drew's "perfect" rental car, a privately owned Toyota Sienna minivan with roof box (not an easy task to arrange) arrived to meet us and worked perfectly for the entire trip. Thankfully it fit all our luggage and accomplished miles of travel in relative comfort for all 8 of us … 1 in a car seat and 1 in a booster! Taylor and Megan connected in LA and arrived in Canmore, Alberta by the end of the travel day well rested (showered and relaxed in the Delta lounge – they know how to travel. Hm???)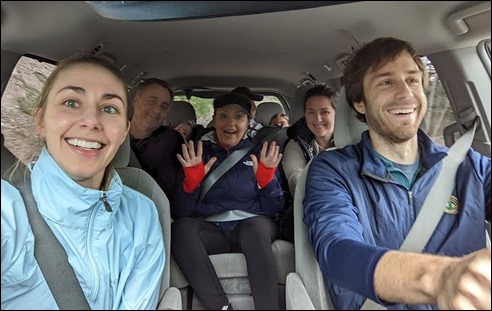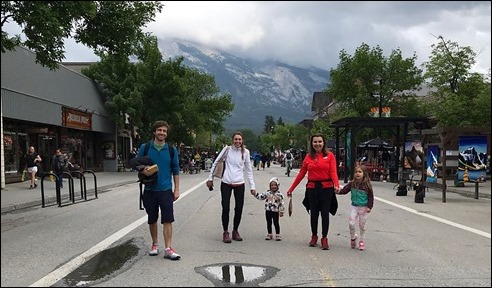 We checked into the AirBNB townhouse and debated which bedroom would be best for each of us … multiple times! All had their own bathrooms, some with a tub and others with exceptional views of the Three Sisters mountain range … although all were quite spectacular. In the end, Brenda opted for the bathtub for relaxation, the kiddos for the room with a bathtub and double beds and Taylor and Megan the top floor with a balcony to kill for … and they enjoyed it very much so it was definitely a win.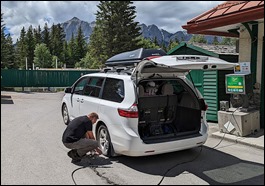 The weather on our arrival was cool and cloudy. We had some rain the first couple of days but that did not deter us from traveling and hiking. Our gravel road segment our first day together around Canmore was our last "rough road" attempt after noticing a leaking tire and lack of tread on the other tires. At this point there wasn't much we could do besides attempting a fix-a-flat repair … which thankfully worked!
We definitely enjoyed the dinners in the tourist town of Canmore, the girls loved walking the shops. Taylor and Megan went out a couple of evenings and took leisurely morning walks to the corner coffee shop or in town.
Katelyn and Drew on the other hand, were up a bit earlier (girls were still on east coast time) and so our days were a bit earlier most of the time. The townhouse offered great accommodations with a kitchen, washer and dryer and fireplace family room to play games and hang out away from the bedrooms. Super nice.
As I mentioned, rain earlier in the week did not deter us from hiking, but those who had rain jackets and hats were glad to have them.
As for some sunshine, it will have to wait for the next post … but as a teaser, look at this rainbow and some video from the boardwalk from Canmore back to the townhouse!