Posted By RichC on September 28, 2008

Not that it matters, but the Cincinnati starting quarterback Carson Palmer is just sitting on the sideline today as he watches his 0-3 Bengals take on the equally struggling Cleveland Browns. According to reports, he is capable of playing, but his elbow is sore after receiving beatings in the first three game. The franchise quarterback has been durable since the 2005 playoff injury against Pittsburgh, but one can take only so many sacks and remain healthy. So far in today's game (2nd quarter), the Bengals haven't missed their veteran as back up Ryan Fitzpatrick is keeping things close (Cin 3 – Cle 3 @ 2PM). Some of us would love to see #5 get a few snaps — Carson Palmer's brother Jordan Palmer.
—
EDIT 4PM: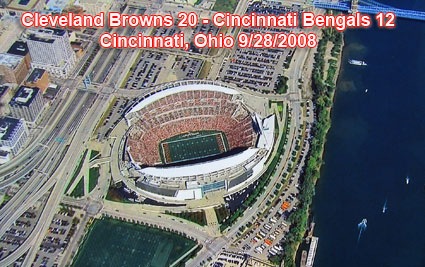 Sour ending to the game if you are a Cincinnati Bengals fan as not only do they go 0-4 losing to Cleveland today, but their defense looks questionable and offense is missing their starting quarterback. Neither team looked all that sharp, but at least the Browns were able to end with a win. Oh well, at least the weather was nice in Cincinnati.